The health and safety of our clients and our team members is our NUMBER ONE priority. It is our role to keep your premises at the highest level of cleanliness and hygiene, allowing your staff and workplaces to function as best as normal.
Therefore, to help prevent the spread of Covid-19 in workplaces, RAMS Cleaning Services, have not only increased their cleaning services but are also providing extra cleaning supplies and additional sanitisation products and services for their clients as needed.
RAMS Cleaning Services High-Level Sanitisation Process
Our recommendation to customers is to add an additional Sanitisation Service to the normal cleaning service we provide. We specifically sanitise touch points throughout your premises. This service can be carried out daily, weekly or three times weekly. The Sanitising Service meets "best practice" guidelines for maintaining a hygienic workplace environment.
Hence, we have put in place a High-Level Sanitisation Process against the Coronavirus.
This solution is ideal for healthcare facilities, as well as non-health care premises such as schools and offices that may have suffered a case of Covid-19. This unique cleaning service is also an ideal precautionary measure to help stop the spread of the disease.
If you would like additional services outside the current service levels, such as more frequent cleaning, touchpoint cleaning, and deep cleaning for high traffic areas, please enquire here or alternatively reach out to info@ramscleaning.co.nz or contact 0800 467 267.
Three Levels of Sanitisation and Infection Control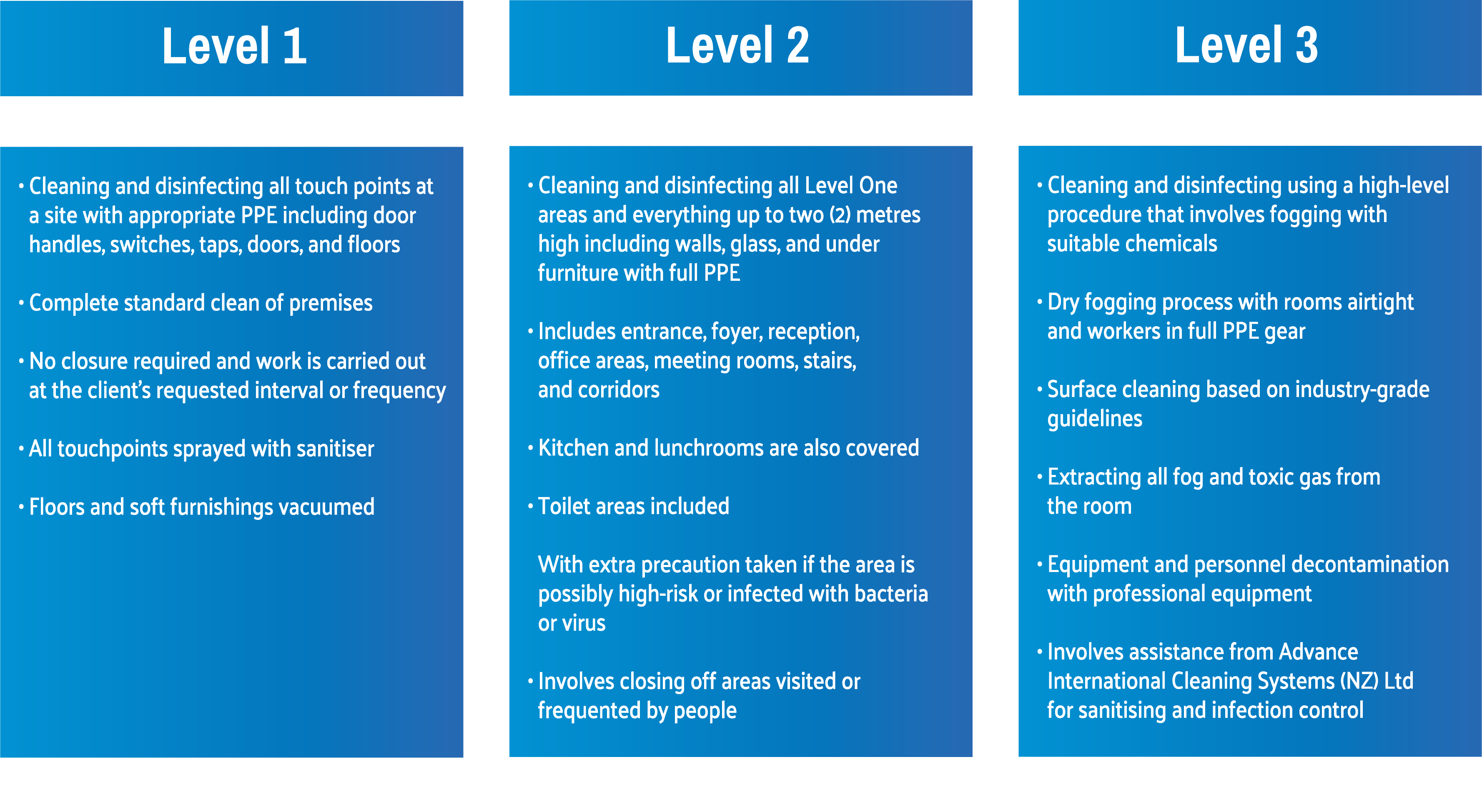 Please note: These guidelines are focused on commercial or non-commercial areas, community, non-healthcare facilities, schools, offices, restaurants, day-care centres, community centers, etc. We clean all hard (non-porous) and soft (porous) surfaces, all touch points, electronics, furniture, and other areas per the client's requirement. In all levels, we remove dust or any waste or debris followed by deep cleaning using EPA-approved chemicals.
Coronavirus Cleaning and Sanitisation Service  
Additionally, we also offer fogging disinfecting services using a fogging disinfecting machine.
A fogging disinfection machine uses a 'dry' mist to sanitise whole rooms, vehicles, and the surfaces of equipment in a matter of minutes, with no residue or odours. A fog machine provides a 99.9999% kill rate for a variety of organisms while still being green, eco-friendly, and chemical residue-free.
The fogger produces a super fine 'dry' mist that reaches virtually all surfaces, cracks, and crevices without re-contaminating sponges and mops, etc. This provides a far more complete sanitisation of any room, industrial machine, ambulance, bus, trolley or other public transportation vehicle, in far less time than manual cleaning. And since the vaporised antibacterial mist evaporates extremely fast, it's 100% safe for use around electronics with zero issues.
A fogging disinfection machine can also sanitise about 10,500 cubic feet per hour, reaching areas that almost never get disinfected, such as walls, ceilings, vents, under and behind chairs, tables, places where harmful bacteria like MRSA, C. diff, Staph and many viruses will hide and remain an active threat for days.
With a fogging disinfection disinfection machine, you can not only sanitise large areas quickly, but you can also eliminate final wipe downs with aerosol chemical cleaners, save on labour hours, and do a much better job of preventing liability from infections.
The fogging will last 90 days.
Upgrading Personal Hygiene Amenities
Hand sanitiser stations, with appropriate dispensers
Hand Soap dispensers
Paper towel dispensers
Toilet rolls and Toilet Roll Dispensers
Sanitising wipes, wall-mounted or desk top dispensers for workstations
Disinfectants e.g. Spray and Wipe and Glass Cleaners supplied by Advance International Cleaning Systems (NZ) Ltd
Gloves, tissues, and all paper solutions
Tea towel supplies and napkin holders
Air Fresheners
Feminine Hygiene Services Auckland Units
Upgrading personal hygiene amenities sets the scene for creating a cleaner workplace.
Our Level 3 Cleaning is a Scientifically Backed Process:
Fogging using EPA-approved chemicals for maximum effectiveness and coverage for all areas
Surface cleaning and sanitising with industry-graded sanitisation products such as Bio Kleen, Hygiea Clean, and Germshield Surface Sanitiser for all frequently touched surfaces and touch points such as handrails, doorknobs, keyboards, door push plates, kitchen areas, taps, microwave ovens, fridge doors, toilet buttons, soap dispensers, hand dryers etc.
Decontamination process that applies to the worker and their equipment
We work with Advance International Cleaning Systems (NZ) Ltd to deliver services to customers at this level.
These extra services are provided to ensure that you and your staff and working in healthier and cleaner environments upon returning from lockdown. 
Our Experience and How We Work
Rest assured that RAMS Cleaning Services is more than well-equipped to provide this comprehensive cleaning service. Our highly skilled professionals are not only experienced; they also have all the necessary personal protective equipment or PPE to ensure safety. We have also dealt with decontamination and offered deep-cleaning services, delivering top-notch services in areas such as carpet cleaning, floor polishing, and window cleaning.
We use the latest equipment and technology to efficiently apply the highest health and safety standards when we deliver the service. Moreover, we are constantly monitoring advisories from the Ministry of Health and the New Zealand Government to ensure that we are always following their directives with regards to sanitation. In short, you can trust that we are the right team to handle even the most sensitive, stringent cleaning requirements for any situation.
We have a responsibility to help keep people safe. We have adopted the Government's requirements around self-isolation for any of our personnel who are returning from overseas travel. We are supporting our personnel if they have been impacted by self-isolation requirements.
RAMS Cleaning Services personnel are instructed not visit any customer premises if they believe they have any symptoms. They are instructed to stay at home, seek medical advice and to see a doctor as early as possible.
Click here for more information on how RAMS Cleaning Services is preventing the spread of Covid-19.
The Role of Deep Cleaning and Workplace Sanitisation in The Fight Against Covid-19
Cleanliness pays a huge role in the fight against Covid-19. Coronaviruses are surrounded by a protective layer of lipids, which can be easily destroyed by soap. Coupled with prompt disinfection, thorough cleaning, and other techniques, we can effectively stop SARS-CoV-2 and other viruses from spreading.
RAMS Cleaning Services can offer this top-tier level of cleaning and sanitising needed to stop the spread of Covid-19. Following the rules set by the New Zealand Government, our agile team stays vigilant. We are ready to adapt and implement the latest safety and cleaning protocols recommended by global experts.
If you're looking for a reliable and professional cleaning company to handle your infection control requirements, feel free to contact RAMS Cleaning Services by phone at 0800 467 267 or by email at info@ramscleaning.co.nz. You can also send us a message through our contact form below.
At RAMS Cleaning Services, we want to continue creating clean, safe, and healthy workspaces for New Zealand businesses. We're experts in both responding to regular and special cleaning needs in workplaces, schools, government agencies, child-care centres, and other companies.
We are here, and we would love the opportunity to help keep your commercial space clean, safe, and healthy every day!
Book us for Deep Cleaning and Infection Control Today!